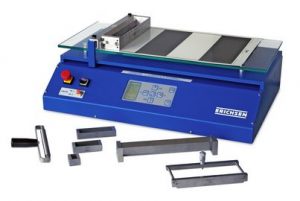 Micro-controller controlled film applicator, freely adjustable film application speeds, adjustable application lengths
The Film Applicator and Drying Time Recorder COATMASTER series is the enhanced successor of the worldwide established COATMASTER 509 MC is now available in five versions- 510, 510XL, 510XXL, BASIC-G & BASIC-V.
An electromotive film applicator device is best used when the film thickness must be absolutely uniform across the entire surface. This enables a reliable statement about the relation of wet to dry film thickness, and the production of a larger number of exactly similar patterns. The automatic application process eliminates irregularities and inaccuracies that are inevitable when the film is applied manually. The film applicator and drying time recorder COATMASTER 510 is a compact combined film applicator and tester with membrane keyboard. The parallel drying test enables an objective comparisons of drying properties across different coating materials.  Exchangeable specimen platforms, i.e. glass plate, vacuum suction and heated vacuum suction plates.  Further options available, details on request.