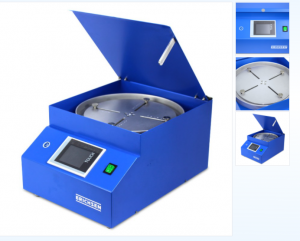 Even application  of coating defined film thickness Applies coatings of even thickness on specimen panels.
The centrifugal paint-film applicator, Model 334 Smart is a bench mounted instrument, consisting of a sheet metal housing, touch panel, specimen holder with collecting trough and protective hood. The speed and the application time are continuously variable between (100 – 2,000)min-1 and (0 – 999)s. The selected speed is shown on the touch panel. At the end of the preset centrifugation time the applicator switches off automatically and the specimen can be taken out of the holder.
Purpose and application: The Model 334 Smart centrifugal paint-film applicator is used for producing uniform coats on test panels (edge length: 80 to 200 mm) for testing purposes. The advantages of this application method are the affordability (time savings) and its outstanding accuracy and reproducibility. This device is very helpful when extremely thin coatings require high coating thickness constancy.
For more detailed information contact us at 330-633-3644