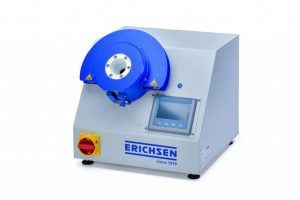 Paint testing machine, Erichsen cupping, up to 45 kN tensile force.
Lacquer and Paint Testing Machine, Model 202 EM, with electromotive drive, equipped with a laterally opened test head, test tool in accordance with DIN EN ISO 1520, electric installation for connecting the illumination of the microscope as well as a digital display for the acquisition of the ERICHSEN cupping value, with integrated preselection counter for setting the maximum cupping value required. The machine is operated via touch panel.
Application: This simple to operate Lacquer and Paint Testing Machine is used for rapid and accurate measurement of the elongation and adhesion properties of protective paints and other coatings of all types using the Erichsen Cupping Test in accordance with DIN EN ISO 1520, BS 3900 : Part E4, NF T 30-019, SIS 18 41 77 on sheet metal specimens up to 1.5 mm thick.
The ERICHSEN Cupping Test provides valuable information on the suitability of a coating material for application in practice. Low cupping test values mean that the coated product may not withstand elongation stresses arising, resulting in corrosion of the substrate.  Model 202 EM is versatile and can be further enhanced by the various accessories available. The machine is a valuable tool for the quality control both for producers of paints and coating materials and for users.
For more detailed information contact us at 330-633-3644