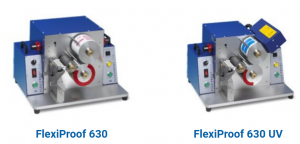 The new FlexiProof 100 is a user-friendly instrument that quickly produces print samples using water-based, solvent-based or UV-flexographic inks. It is indispensable for anyone involved in the manufacture and processing of flexographic printing inks. Ideal for use in quality assurance, R&D, for printing originals and for computer-assisted colour formulations.
Printers – eliminates press downtime by colour matching off press.
Can be used to determine performance properties, i.e. wear resistance, scratch resistance, flexibility, durability, gloss, etc.
Will print on all typical commercial substrates- paper, film, foil.
Minimises expensive on-press waste production, boosts customer confidence and minimises customer returns.
Inks – computer colour matching, database and sample preparation.
Eliminates the need to use a production line printing press for pilot runs, as the Flexiproof 100 is a scaled down but exact version of a full sized flexo press.
Research and development – product viability, commercial viability.
Now available with UVLED curing capabilities.
Complies with ISO 2834-2  

Results are ideal for computer colour matching or spectrophotometer readings.
For more detailed information contact us at 330-633-3644