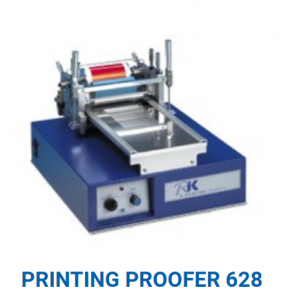 The PRINTING PROOFER quickly produces high-quality printed proofs using gravure or flexographic inks. By using electronically engraved printing plates and an adjustable printing speed of up to 40 m/min, this instrument has become an indispensable tool for anyone involved in the production and processing of printing inks. It is perfect for making samples for quality control or for presentation purposes to customers. It can also be used for R&D and computer colour formulations.
High quality proofs using gravure, gravure-offset or flexo inks are produced instantly using the K Printing Proofer.
Almost any flexible substrate can be printed or laminated.
Excellent printability ensured by micrometer control.
Multiple ink samples may be printed simultaneously for comparison purposes.
High printing speeds enable use of inks nearing press viscosity.
Easy to operate with a footprint of just 400 x 500mm
Results ideal for computer colour matching or spectrophotometer readings.
For more detailed information contact us at 330-633-3644